The King's Academy strives to keep costs as low as possible. Because the yearly budget is based on the total number of students enrolled, parents are expected to commit to the program for the entire school year, August through May. A withdrawal fee equal to a full year's tuition will be charged once the first tuition date has passed. Parents are committed to pay the entire year's tuition regardless of withdrawal date.
Cost to Apply
Application Fee
$100
The non-refundable Application Fee for your first applicant is $100 and the Application Fee for any additional Siblings is reduced to $35. These fees increase by $100 for applicants that apply after April 30th. This fee is non-refundable regardless of the final admission status of your student.
Enrollment Fee
$400
The Enrollment Fee for all applicants is $400. This fee is non-refundable except for instances of a student's application resulting in denial or waitlist. Funds will not be refunded if a parent decides to withdraw their student's application or if they decide not to attend after being accepted into the program. The enrollment fee is an annual fee that is charged to new and existing families to secure their spot for the following school year.
Testing Fee
$75
We administer entrance testing for all applications entering grades K - 2. Our placement department may determine that academic testing is necessary to complete the application process for students in grades 3 - 12. Please be prepared to pay the $75 testing fee when you arrive at your testing appointment. Some students may not be required to test. You will be notified of your testing requirement once your application for admission is reviewed.
Annual Tuition and Fees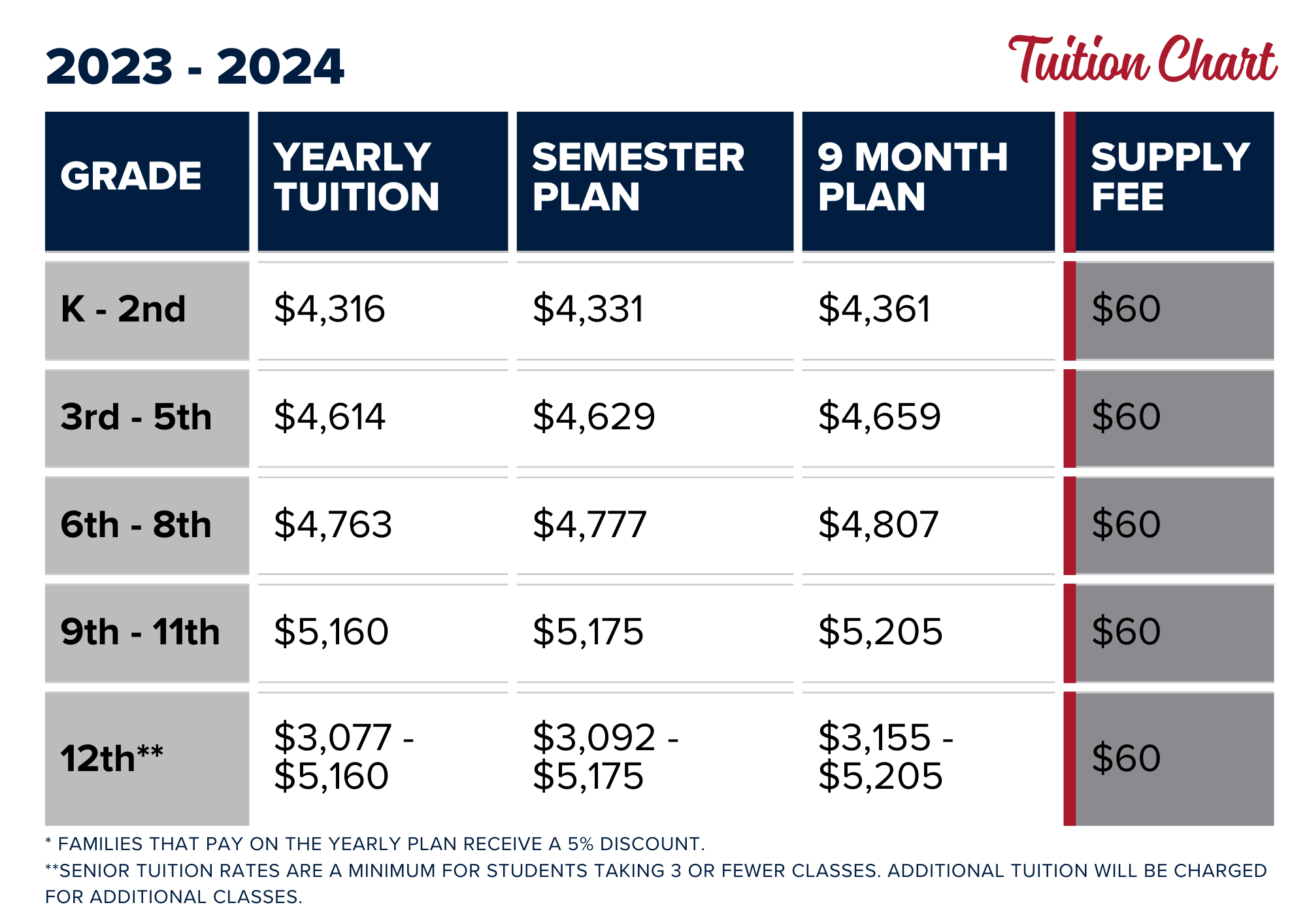 NOTE: The above costs include ALL textbooks. The $60 supply fee per student covers art, science, and miscellaneous supplies.
Total tuition for your family is calculated as full tuition for your oldest student plus full tuition less sibling discount for each additional student. Any additional discounts are calculated on the family total.
Sibling Discount
Additional students in one family receive a $225/year discount for the 1st sibling, $450/year discount for the second sibling, and $675/year discount for the 3rd or more.
---
Pay In Full Discount
Families that pay on the yearly plan receive a 5% discount on their family's total tuition.
---
Need Based Scholarships
We will accept applications for accepted and existing families in the spring of each school year. You can learn more about our need-based scholarship program on our dedicated scholarships page. If you have any questions, you should reach out to our scholarship team for more information about applying. Funds are available for students entering grades K-12.